This photo was taken when I was nineteen years old ,outside my house in Tuaran . I was then young and had lots of fun.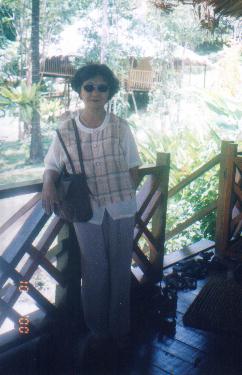 I visited Sun Jamal Resort , Kudat last year together with a group of friends . I found the place quiet, beautiful and restful ; an ideal place to stay for a weekend and for a quick visit .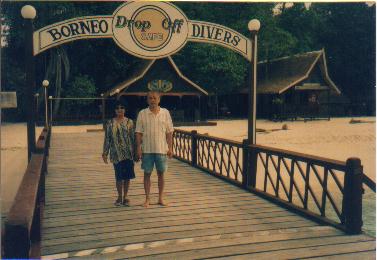 My husband and I went to Sepadan Island , Sabah last year,2000 . It is a very beautiful island , far from the madding crowd. It is from here that a number of tourists were kidnapped by the Abu Sayap group , just after we had left . I consider that a lucky escape , don't you ?
Son-in-law Julius and daughter
Lei yee .
Yen Nee and Sei Wee
Dominic and wife , Grace .
Yen Nee and friends

Outside a famous temple in Hapyah , Thailand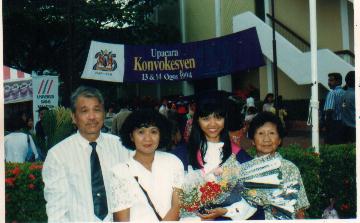 This is a picture taken during my elder daughter's convocation .My daughter took a degree "' Bachelor of Art ' in University Science Malaysia, Pulau Pinang. Together with us is my mum . I am sure you know who is who .
Daughter-in-law Grace and her
daughter Belinda .
Dominic and Belinda